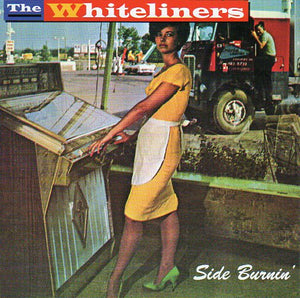 Cat. No. 2608: THE WHITELINERS ~ SIDE BURNIN'. PRESS-TONE PCD27.
THE WHITELINERS HAD THEIR ORIGINS IN THE SATELLITE V. STEVE WOOD – VOCALS/BULL FIDDLE/ACOUSTIC GUITAR AND ROY PAYNE – VOCALS/LEAD GUITAR/SLIDE GUITAR/MADE UP HALF THE SATELLITE V AND PERFORMED IN BOTH BANDS AT THE SAME TIME. THE WHTELINERS ARE MORE OF A HILLBILLY BOP BAND WHEREAS THE SATELLITE V WERE MORE INTO ROCKABILLY. HAVING SAID THAT, THIS IS A GREAT ALBUM WHICH I AM SURE YOU WILL PLAY OVER AND OVER. GREAT ****
TRACK LISTING: Volcano Girl / First Exit / Ramblin' Daddy / Rodeo King / Bottle Talk / Truck Stop Queen / Moon Man Rock / Rio Grande / Parramatta Hotrod Man / Tonight's The Night / Cut Me Down To Size / Broken Heart Blues / Left And Right / Un-Tamworthy.
CD     NEW

---
We Also Recommend
---