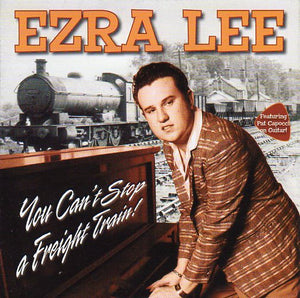 Cat. No. 1889: EZRA LEE ~ YOU CAN'T STOP A FREIGHT TRAIN. PRESS-TONE MUSIC PCD 15.
BACK IN STOCK. 17 AVAILABLE. WAS $25.00. NOW $19.95.
SUPERB SOLO DEBUT ALBUM FROM THIS HOT ROCKIN' PIANO MAN WHO'S REALLY MAKING A NAME FOR HIMSELF ON THE WORLD SCENE.
TRACK LISTING: Just One Of Those Things / Mean What I Say / Creola / Can't Stop A Freight Train / I'll Keep Waiting / Rock'n'Roll Piano Man / Pantin' Panther / Ezzy's Boogie / Look, But Can't Touch / Count On Me (To Shoot You Down) / Firefly / Spread It All Around / The Devil Is A Dame / She Done Gone.
CD
Click on the Play button to hear a snippet of the track below
Just One Of Those Things 
Mean What I Say
Can't Stop A Freight Train
Ezzy's Boogie
Look, But Can't Touch
Firefly
Spread It All Around
She Done Gone
---
We Also Recommend
---